No soy muy fan de realizar memes, pero pues Jaka me puso uno así que aquí va: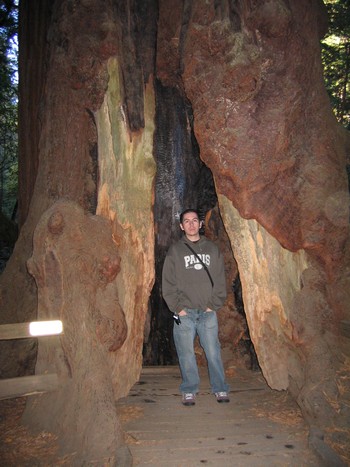 REGLAS DEL JUEGO:
*Pon una foto tuya*
Responde a las preguntas que se realizan en el test con total sinceridad
*Escoge a 4 personas para que sigan el test (sin olvidarte de avisarles en su blog)
SOBRE MI:
-Pelo: Negro
-Ojos: Simplemente cafés
-Mejor rasgo: mmm…. No sé, ustedes digan
-Altura: 1.71
-Gafas: se supone que debo utilizar para leer y para la usar la compu
-Número de pie: 7
-Edad: 25
-Piercing: Se me antoja uno en la ceja… pero no me "decido" a ponérmelo
-Tatuajes: posiblemente en el futuro
-Diestro o zurdo: Diestro.
-Frase favorita: ¿Que yo diga comúnmente?, ¿Que más me guste?
-Un deseo: Que The Cure vaya a Guadalajara
-Mejor día de tu vida: Los que paso con los Sybelle, con los compas y con mi familia, cada día tiene lo suyo.
-Peor día de tu vida: La primer navidad sin mis parientes, cuando me dieron la noticia de Real, cuando me dijeron que me cambiarían de colegio para la secundaria 😛
-¿Echas de menos a alguien?: a Real y a mis parientes
-Miedos: Que no me recuerden cuando me toque irme de la tierra.
-Mayor vicio: Los videojuegos, aunque vicio suena feo, digamos afición 😉
AMOR:
-Estás enamorado/a?: yeap
-Con cuánta gente te has liado?: uh?
-Novio/a en estos momentos?: Sybelle
-Amor a primera vista?: Pa que digo que no si sí.
-Amar o que te amen?: los dos, si no que chiste, no?
-Te rompieron el corazón alguna vez?: yeap
-Y tu lo rompiste?: mmm… no estoy seguro 😛
-Fuiste infiel?: Noup.
-Te fueron infiel: No que me haya enterado, pero creo que puedo decir que no.
-Perdonarías una infidelidad?: No se, pienso que no.
-Locura más grande que hiciste por amor?: …
-Nunca harías por amor?: Algo con lo que no me sienta cómodo, algo que no vaya con quien yo soy.
-La persona que mejor te ha besado?: Eso no se compara.
-Una cita ideal: para que idealizo, mejor que suceda y ya.
-Un lugar: Orlando
-Dominar o ser dominado: Dominar!, uno es el de los pantalones!… snif, ni yo me la creí
-Lloraste por amor?: Quien no?
-Romántico o espontáneo: mmm… pues lo que tenga ser en el momento.
-Tierno o sexy: o.o
-Abrazos o besos: Both
AMISTAD:
-Mejor amigo/a: Los compas, los frikis/geeks (:P), Puky, Iris
-Primer amigo/a: en la primaria mi mejor amigo se llamaba Daniel… no se qué será de él
-Tienes muchos amigos/as?: Cuántos son muchos?, tengo los necesarios.
-Qué aprecias más en tus amigos/as?: A ellos, así sin más ni más, a ellos
-Traicionado por un amigo/a?: como dijo Koala: Shit happens
-Traicionaste a un amigo/a?: Creo que no…
-Amor platónico?: I <3 Natalie Imbruglia
-Película: Buffalo '66, El Gran Truco (The Prestige), El Duelo (Fearless), Fight Club, El Rey Leon
-Programa de TV: Friends, Battlestar Galactica, Seinfield.
-Banda: The Cure, Depeche Mode, Covenant.
-Canción: Home de Depeche Mode, One Hundred Years de The Cure, Let the Bells Ring de Nick Cave and The Baad Seeds
-Dulces: ¿cuenta el flan napolitano?, casi cualquiera de la marca Montes
-Deportes: Basket, Ping Pong, Padel
-Bebida sin alcohol: Agua de horchata, agua de avena
-Bebida con alcohol: cerveza.
-Comida favorita: La sopa de tortilla
-Marca favorita de vestir: Pues me gusta mucho la ropa Adidas, Puma, Hurley y Quicksilver
-Tienda: mmm… no se
-Materia de la escuela: Cualquiera de programación.
-Animales: Aves
-Libros: La era del diamante de Neal Stephenson, cualquier relato de H.P. Lovecraft, Demian.
-Revistas: hace muchos años coleccionaba la club nintendo.
-Te gustaría ser otra persona: Creo que no
TÚ ALGUNA VEZ HAS…
-Besado a un extraño: al igual que Jaka soy bien sacatón
-Tomado alcohol: yeap
-Fumado: yeap
-Escapado de casa: yeap
-Roto el corazón de alguien: Pues no sé si tanto así.
-Terminado con alguien: ¿Que si yo he terminado a alguien?
-Llorado en la escuela: mmm… creo que no, no toy seguro
-Te has lamentado de haber hecho algo: Me he arrepentido en su momento, pero pues eventualmente he aprendido a vivir con ello y aprender de ello por lo cual pues dejo de lamentarme.
Ahora, se supone que se lo debo poner a alguien, pero la neta pues prefiero que a quien se lo antoje lo responda, eso si, que me avisen si lo respondieron.